S5 Menu With Multiple Effects
The S5 Menu system gives you the option to choose between the jQuery or the S5 Effects scripts to power your site menus. The demo here is all running the jQuery menu system. You can easily switch to the S5 Effects library via your theme options area in WordPress.
The S5 jQuery menu functions just like the S5 No-MooMenu except it is powered by jQuery. To demo the menu just mouse over the top menu and you will notice the menu smoothly expand and fade in.
Menu screenshot: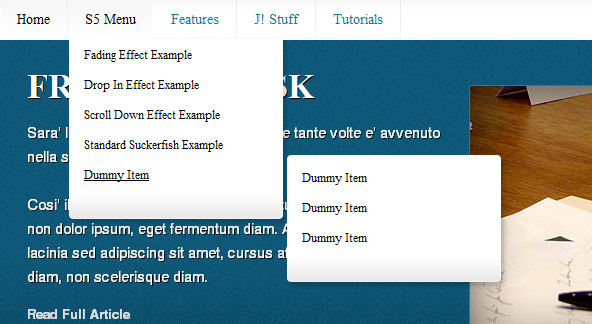 4 Options:
Operation Clean Government (OCG) is a volunteer group dedicated to promoting honest, store
responsible, there and responsive state government in Rhode Island. OCG believes that our elected and appointed officials should be accountable to the people. OCG believes that a healthy democracy stems from transparency in government, with full access by all its citizens. OCG advocates that all issues should be fairly debated and decided on their merits, and that our common resources should be used responsibly in the public interest.
OCG is a 501(C)4 non-profit organization with hundreds of members. It was formed in 1993, when several smaller citizens groups merged in response to the Rhode Island banking crisis, when large and politically connected borrowers defaulted on loans, freezing billions of dollars of small depositor accounts and catalyzing citizen outrage.
Since then, OCG has fought for a number of critical issues, to included Voter Initiative, a Constitutional Convention and the restoration of the Ethics Commission's jurisdiction over state legislators.
Last updated May 18, 2012